By Liam Denning
Like this volatile fall weather, it's tougher than usual to plan for the imminent earnings season in the oil and gas business.
The industry had a tough second quarter. The early euphoria generated by OPEC's supply cuts gave way to the realization that oil prices were drifting sideways at best. Meanwhile, signs that exploration and production companies were -- in Halliburton Co.'s words -- "tapping the brakes" on drilling raised fears the shale productivity miracle was reaching its limits. A sharp cut to guidance on oil production from bellwether Pioneer Natural Resources Co. was the coup de grace.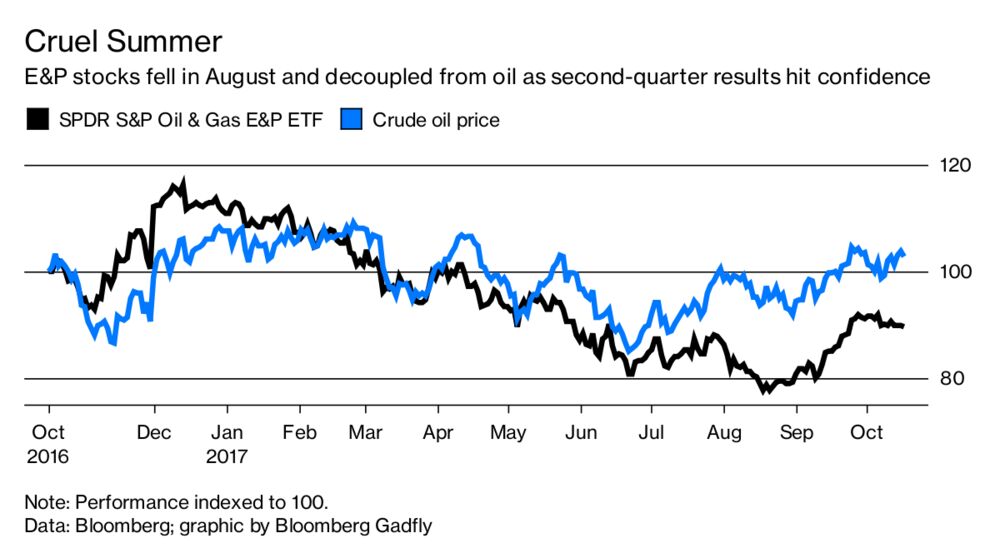 Oil prices are actually on firmer footing due to a combination of those OPEC cuts and, recently, geopolitical intrigue in Iraq. Yet E&P stocks aren't moved. That's partly because the past few years have sucked the life out of many an oil-market bull -- including "God" -- so any rally in crude prices tends to get discounted as ephemeral.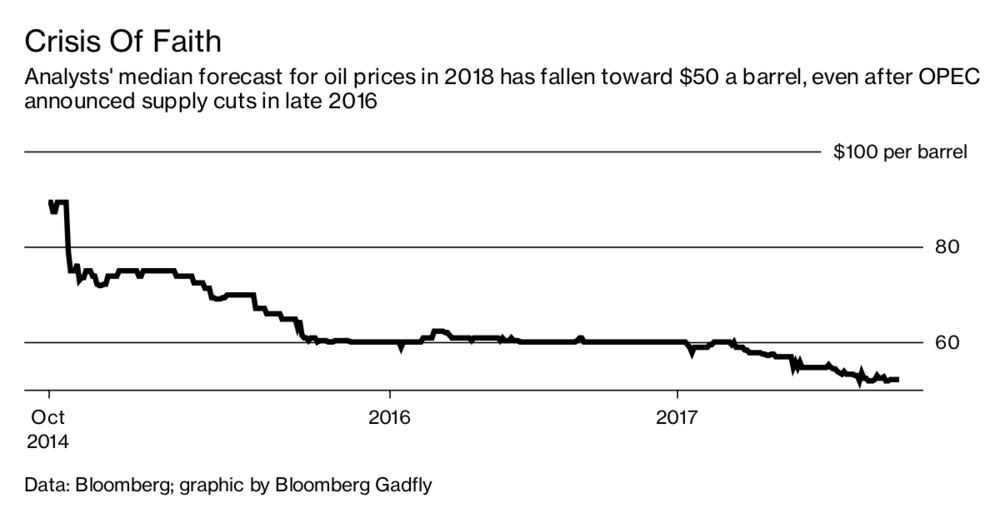 The corollary is that investors are antsy for more action on the part of companies themselves; if the tide isn't lifting all, then the captain of the boat faces some tough questions.
This has become apparent already as activists have targeted EQT Corp. and Energen Corp. And last month, Anadarko Petroleum Corp. surprised everyone with plans for a $2.5 billion stock buyback, a move that looks at least partly designed to forestall activism but also fits with a sharp drop in equity issuance by the sector this year.
This all forms part of a broader narrative that has emerged around the theme of growth versus value. Investors and analysts have been highlighting the mismatch between soaring targets for production and lackluster results in the form of cash flow or return on capital. Some, such as analyst Doug Terreson at Evercore ISI, point to the pernicious influence of compensation structures that tend to reward expansion more than efficiency.
This is the essential context for the deluge of press releases and webcasts that is about to drop. If growth targets have lost the power to wow investors at $50-ish oil, might E&P companies use this as an opportunity to rein in their earlier plans? It seems like an obvious move; and there are parallels elsewhere in the energy business, such as Enterprise Products Partners LP paring back dividend growth in favor of self-funding its investments.
Yet a wholesale abandonment of growth by the sector in favor of value shouldn't be taken for granted.
Even with activists on the prowl, it's tough for any management team to go against years of ingrained behavior. Some companies, Pioneer especially, will simply find it tough to walk back very bullish projections. And efforts to increase the flow of oil from each well via better technology and techniques -- the critical factor, above all others, for long-term success in shale -- aren't stopping. Meanwhile, even if the industry's cost of equity has clearly risen, bond markets have been more welcoming of late, and the recent uptick in oil prices has provided an opportunity to hedge more of next year's barrels.
Plus, the stockpile of drilled but uncompleted wells (DUCs) in the major oil-producing shale basins has surged to new heights.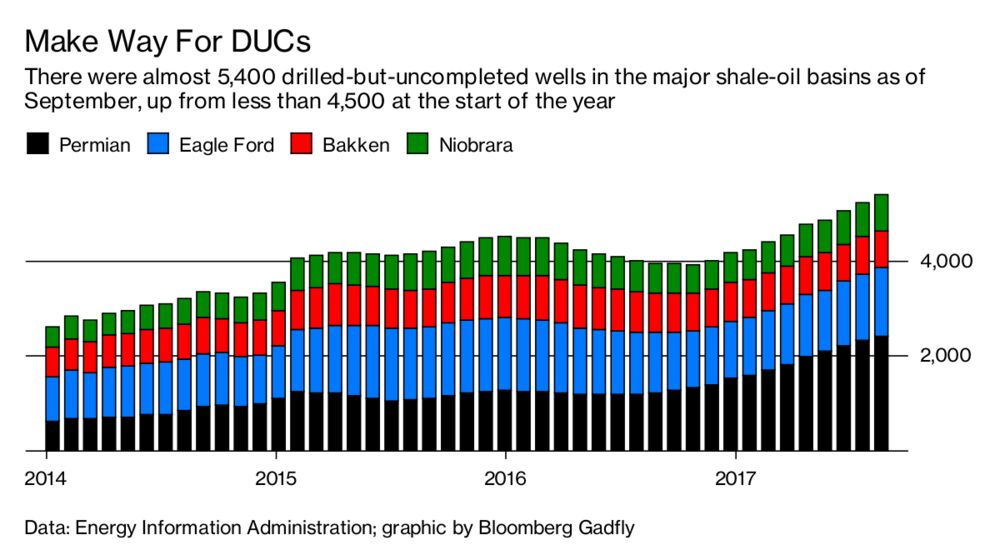 At current rates of completion, there are now more than seven months' worth of DUCs awaiting fracking, and just under seven months' worth in the critical Permian basin. The build-up likely reflects a more cautious mindset after the summer's drubbing, as well as a tighter market for fracking crews. If a higher cost of capital (and labor and equipment) keep the DUC count rising, then growth estimates for U.S. oil production will get trimmed. In a sense, the discipline OPEC longs to see in the shale patch would have arrived.
Yet those DUCs also represent a mighty overhang. And if the discipline of some E&P companies feeds into tighter models of oil supply and demand, and therefore, higher prices, you can bet there will be others who choose to complete their wells in order to capitalize on it.
This is the feedback loop that defines the sector -- and why this earnings season will provide big clues on where oil prices will go in 2018.