Published by: Housley Carr
A number of indicators suggest that the energy slump that started in the latter half of 2014 has bottomed out, and that happy days are here again (at least for now). Who would have thought back in the good ol' days three years ago this month—when the spot price for crude oil was north of $100/bbl and the Henry Hub natural gas price averaged $5.15/MMbtu—that Friday's $54 crude and $2.63 gas would be seen as anything but a catastrophic meltdown. But not so. The fact is that in 2017, producers in a number of basins can make good money at these price levels. Consequently, drilling activity is coming on strong. Crude oil production is up more than 500 Mb/d since October 2016 to 9 MMb/d, a level not seen in almost a year. And gas output has also been poised to rise, if only real winter demand had kicked in this year. What's going on? Today we discuss the fact that what we have here, folks, is a rebound unlike any we've seen before.
[Note: this blog is based on presentations made in Washington, DC two weeks ago by Rusty Braziel at the Center for Strategic and International Studies (CSIS)—see video here—and the National Capital Area Chapter of the U.S. Association for Energy Economics (NCAC/USAEE).]
For the past three years, it's been a mostly-down rollercoaster, that's for sure. Pre-price-crash in February 2014, the CME/NYMEX front month price for West Texas Intermediate (WTI), the U.S. crude oil benchmark, at the Cushing, OK hub, averaged $100.68/bbl; 12 months later (February 2015) it was half that ($50.72), and a year after that (February 2016) it was down another 40%, averaging $30.62 for the month (after bottoming out on February 11, 2016 at $26.21/bbl—a price not seen since November 2002.) Same story for Henry Hub gas; as we said, in February 2014 spot prices averaged $5.15/MMbtu, spiking as high as $6.15 mid-month during a Polar Vortex event and falling as low (if low's the word) as $4.51 later in the month. A year later (February 2015) Henry Hub gas was down to $2.75, and a year after that (February 2016) gas was bargain-priced at $1.93—it bottomed out at $1.64 on March 3, 2016.
Prices for crude oil and natural gas have rebounded since then, though (as we discussed in Friday's blog, You Keep Me Hangin' On) weak-as-a-kitten winter weather has zapped gas demand the past few weeks and sent gas prices tumbling to their lowest level since just before Thanksgiving. As of Friday (February 24, 2017), WTI was priced at $53.99/bbl and Henry Hub gas stood at $2.63/MMbtu—way above the lows hit during the first quarter of 2016, but far below where prices were three years ago—yet producers are surging back into the oil patch, particularly into a few high-profile basins like the Permian and SCOOP/STACK.
As shown in Figure 1 below, since January 2016 the count for crude-directed active rigs (tracked by Baker Hughes) crashed from 500 down to just over 300 in five months, but then rocketed back to 602 (as of February 24, 2017) and continues on a steep upward trajectory. It's a similar story for natural gas-focused rigs: from about 150 in January 2016 down to 80 in August, and now back up to 151 and also rising fast. That sure seems like a recovery, right? Maybe. But we can't lose sight of the fact that in 2014 the active oil-and-gas rig count was ~1,200 higher than it is today. Those rigs sit idle. So it is clear this is not what most of the industry expected a recovery to look like.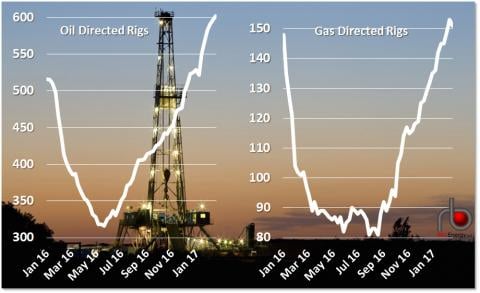 Figure 1 – Crude and Gas Rig Count; Source: Baker Hughes (Click to Enlarge)
The reality is that this is not a traditional recovery driven primarily by rising prices. Instead, the rise in crude production that we've been seeing in at least a few key production regions (the SCOOP/STACK and the Niobrara, for example)—and the incredible strength we've seen in the Permian—are tied for the most part to extraordinary gains in oil and gas production productivity. As shown in Figure 1, the oil and gas output added per rig have soared the past few years and—just as important—there's no sign of these gains ending.
Figure 2 indicates just how astonishing this productivity growth has been. These are numbers out of the Drilling Productivity Report (DPR), the monthly publication from Energy Information Administration (EIA) that projects natural gas and crude oil production for each of the shale basins based in part of the relationship of the rig count, the number of wells being drilled, and the initial production rates (IPs) of the newest wells drilled. We've blogged extensively about DPR-related topics––see We Can Work It Out, High Hopes, and Every Rig You Take. The numbers in Figure 2 reflect DPR's calculated average new well production rate per well drilled.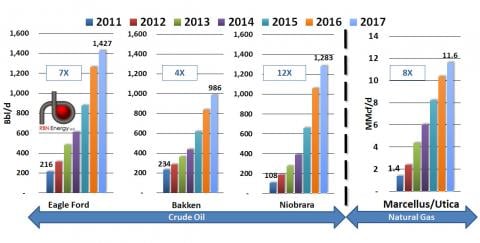 Figure 2; Source: EIA/RBN (Click to Enlarge)
So in the Eagle Ford, in 2011 a new well generated on average an incremental 216 barrels per day of crude oil production. So far in 2017, that number is up to 1,427 barrels per day, or seven times as much crude as in 2011! In the Bakken, per-rig productivity is four times what it was six years ago; and in the Niobrara, it's 12 times the 2011 level. Much the same holds true in the Marcellus/Utica when it comes to natural gas: currently each rig adds 11.6 MMcf/d of production, eight times the 1.4 MMcf/d that each rig there added six years back.
How could something like that happen? In his 1975 country classic, "Faster Horses (The Cowboy and the Poet)," singer/songwriter Tom T. Hall sang about an old cowboy/philosopher who, when asked about "the mysteries of life," said it came down to four things, starting with "faster horses." (If you are interested in knowing Mr. Hall's three other mysteries of life, Google the song.) Well, there are dozens of factors that have contributed to the oil and gas productivity improvements we've seen over the past few years, but in the same way the cowboy/philosopher boiled life down to only four things, we'll attempt to do the same for our topic. Let's take them one by one.
1. Larger leaseholds. Producers are assembling ever-larger leaseholds in the parts of key shale plays they have determined to be the most promising, and filling in gaps so their holdings in those areas are contiguous and are not "checkerboarded" (interspersed with leaseholds held by other producers). They are doing this for several reasons. One is to concentrate their operations to gain economies of scale; that is, pulling all of their operations together so they can be operated at a lower cost––critical to success in a low-price environment. But an even more compelling reason is to provide enough of a "fairway" to drill ...
2. Longer laterals. Larger, contiguous leaseholds allow for the drilling of much longer laterals. (Horizontal drilling involves drilling down vertically until you get to the desired depth in the producing shale formation and then making a 90-degree turn to proceed laterally away from the vertical well bore.) Drillers have become increasingly adept at drilling laterals that run two miles or more—a practice that enables producers to access far more hydrocarbons per well. But you can't drill two-mile laterals in several directions off a single well pad (the common practice today in many basins––another big contributor to well productivity) if your leasehold area isn't big enough to encompass those longer laterals. A producer can't drill through somebody else's lease, which is the reason they need the larger leaseholds (see #1 above).
3. Extra sand. Water and proppant (sand) injected into horizontal wells under high pressure creates small cracks in tight shale rock that allow oil, gas and natural gas liquids (NGLs) trapped in the formation to flow more easily into the well and up to the surface. Over the past few years, the volume of sand used per well has been rising fast; a typical shale well in the Permian now has a two-mile lateral (10,000-plus linear feet) and uses 15 million pounds of sand—that's 1,500 pounds of sand per linear foot. (By the way, we've been hearing that using 20 million pounds of sand per two-mile lateral is becoming more common in the Permian, and who knows how far this trend might go. Back in October 2016, Chesapeake Energy revealed it had successfully pumped more than 50 million pounds of sand down a 10,000 foot lateral well in Louisiana––an event the driller dubbed "propageddon.")
Figure 3; Source: RBN (Click to Enlarge)
Figure 3 shows how much space 1,500 pounds of sand takes up (16 cubic feet—or about the size of those old, white refrigerator/freezers most of us grew up with). Each one of those brown boxes in Figure 3 represents a cubic foot of sand. Sixteen of those cubic feet of sand get squeezed into each 5" diameter linear foot of the two-mile lateral and then out of holes in the pipe into the rock. That's what breaks up (cracks open, or fractures) the rock, allowing the water to be withdrawn and leaving the sand to prop open the cracks (thus why the sand is called proppant); hydrocarbons then flow through the cracks back up the well bore to the surface. And sand use per linear foot continues to increase. Why? More fracturing releases more hydrocarbons, more hydrocarbons mean more revenue, and all other things being equal, more revenue means higher returns on investment.
4. More "choking back." Because longer laterals and extra sand free up far more hydrocarbons, producers can throttle (or "choke back") initial production from the well, a practice akin to pinching the neck of a balloon so it takes longer for the air to get out. In fact, producers often need to choke back production from these super-producing wells so the supporting downstream infrastructure (crude oil heater-treaters, gas processing plants, pipelines etc.) isn't overwhelmed by surging volumes in the first few months of a well's production.
Choking back production can have another, even more significant effect: it can change a well's decline curve—the measure of how quickly the well's daily production will fall—for the much-better by reducing the rate of decline of production from the well. Since the beginning of the Shale Era, steep first-year declines in production (60%-70%; brown line in Figure 4) have been the norm for most shale wells.
Figure 4; Source: RBN (Click to Enlarge)
In fact, this characteristic led to the view held by some folks (for a time) that the speed at which shale-well production petered out meant that shale-play economics wouldn't ultimately pan out and that the Shale Revolution would be revealed as a high-dollar Ponzi scheme. Of course, nothing could be further from the truth. Most of these skeptics eventually came to recognize that getting a lot of production from a well in its first year was actually a very good thing—it allows for quick payback of drilling and completion costs, for one. More recently, the combination of much longer laterals and much more intense use of sand goosed IPs even more, and encouraged the choking back we discussed, and with it, a less-steep, flatter decline curve—often only 30 to 40% the first year, with the expectation that future declines will be slower as well (green line in Figure 4).
What all this means is that the recovery in U.S. oil and gas production that we are experiencing in early 2017 is in large part the result of ongoing efforts by producers and their service providers—faced by the challenge of weak commodity prices—to increase their productivity by leaps and bounds. What these productivity gains do is enable the most innovative and technologically aggressive producers to make money (and often quite a bit of it) even when crude oil and natural gas prices are far lower than they were three years ago.