Although cheap oil has forced frackers to shut down drilling rigs across large swaths of the U.S. shale patch, from the Bakken fields of North Dakota to the Eagle Ford in South Texas, there's one region where the profits are still flowing. The Permian Basin, a 75,000-square-mile patch of scrubby desert stretching across West Texas and into New Mexico, has emerged as the most resilient oil field in America. Overall crude production in the U.S. is down by about a million barrels a day over the past 12 months, but output from the Permian continues to grow. All signs indicate that the Permian will stay in the money in 2017, as drillers and investors flock to the region.
Even with oil prices below $50 a barrel, frackers have been able to turn a profit drilling into the Permian's dense layers of oil-soaked rocks. That's because the underground geology makes it less costly to extract oil and gas there than in other shale patches. Drillers have added 67 rigs in the region since May, bringing the total in September to more than 200. Wells in the Permian are producing more oil at faster rates, enticing billions of dollars of fresh investment. Permian-related oil and natural gas companies have raised $9 billion in new equity this year. Explorers including Anadarko Petroleum, Pioneer Natural Resources, and EOG Resources have spent $14 billion buying up some of the most productive sites. The best land has gone for as much as $60,000 an acre, according to data compiled by Bloomberg. "Available capital has been magnetically pulled to the best economics, and the Permian has led the way," says Robert Santangelo, Americas head of equity capital markets for Credit Suisse.
In September, Houston-based Apache announced what amounts to a mega-discovery. Known as Alpine High, the site along the western edge of the Permian may hold at least 3 billion barrels of oil and 75 trillion cubic feet of natural gas, worth at least $8 billion by the company's most conservative estimates. Production could begin by the second half of 2017. "I think we surprised a lot of folks to step out with a new play of this size and scope right under everybody's nose," says Chief Executive Officer John Christmann.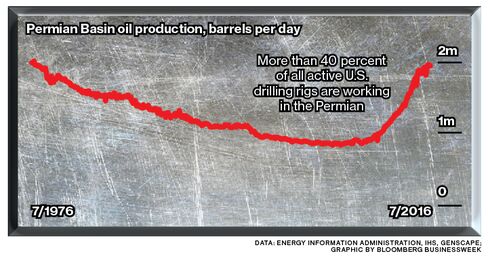 Starting in 2014, Apache quietly amassed 350,000 acres in southern Reeves County, paying an average of $1,300 an acre. Most explorers had written off the land, but Apache saw tantalizing signs in old drilling logs and other data. Apache has sold oil and gas assets from Argentina to Australia to the deepwater Gulf of Mexico to focus on what it considers better growth prospects in U.S. shale. "We felt like we could be as good as anybody, and we had a tremendous acreage position," Christmann says.
Laying oil and gas pipelines and other infrastructure in the isolated area will probably cost Apache at least $1 billion, says Richard Tullis, a Capital One Securities analyst in New Orleans. Apache is spending about a quarter of its $2 billion capital budget on Alpine High this year and will continue the build-out in 2017, Christmann says. The company has moved four rigs to the area, each capable of drilling four wells a month. It expects to drill at least 60 wells a year beginning in 2017. "This is a giant onion that is going to take us years to peel back," Christmann says. "It's a story that's going to get bigger and better."
There's no drop-off likely for the rest of the Permian either, says Credit Suisse's Santangelo. Consolidation will probably continue as bigger companies buy smaller operators, but the basin's biggest gains will come in further perfecting drilling technologies and increasing returns. "The Permian is going to be the ground zero of the U.S. unconventional oil business," Santangelo says. "And that, I think, is here to stay."